Loveday HP, Wilson JA, Pratt RJ epic3: national evidence-based guidelines for preventing healthcare-associated infections in NHS hospitals in England.
J Hosp Infect.
2014; 86:S1-S70
https://doi.org/10.1016/S0195-6701(13)60012-2
National Institute for Health and Care Excellence. Healthcare-associated infections: prevention and control in primary and community care—1.1:standard principles. Clinical guideline CG139. 2017.
https://tinyurl.com/gnpl8k2
(accessed 17 October 2018)
Kozier B, Erb G, Berman A Fundamentals of nursing: concepts, process and practice, 2nd edn. Harlow: Pearson Education; 2012
Patton KT, Thibodeau GA. The human body in health and disease, 7th edn. : Elsevier; 2018
Boore J, Cook N, Shepherd A. Essentials of anatomy and physiology for nursing practice.: Sage; 2016
Langøen A, Bianchi J. Maintaining skin integrity. In: Flanagan M (ed). : Wiley; 2013
Weston D. Fundamentals of infection prevention and control: theory and practice, 2nd edn. Chichester: Wiley; 2013
, 9th edn. In: Dougherty L, Lister S (eds). : Wiley; 2015
Hand hygiene and handwashing: key to preventing the transfer of pathogens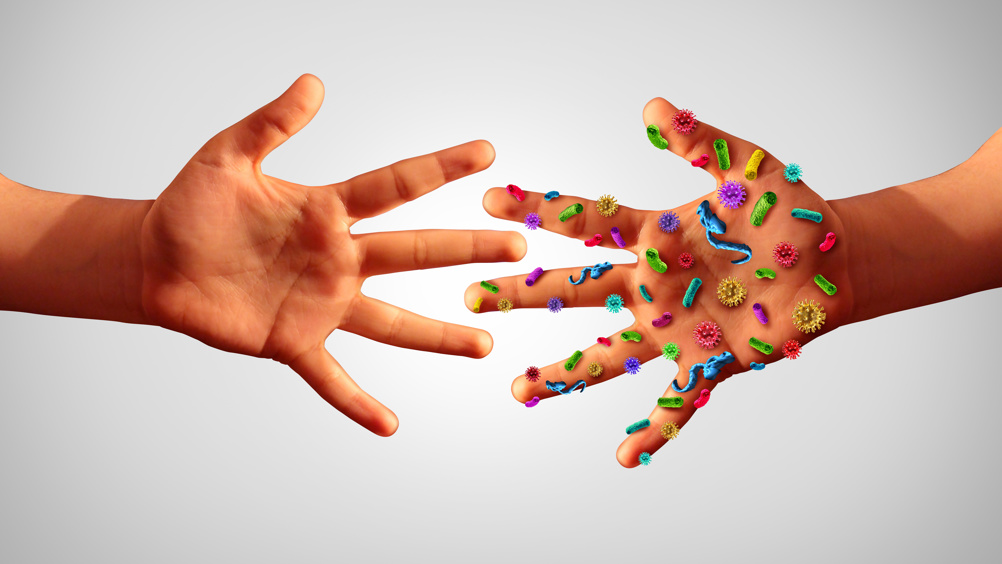 One of the most common means of transmission that is found in healthcare environments is touch: directly by shaking someone's hand or indirectly by touching an object that has been previously touched by another. Consequently, hands can be populated with an enormous number of microorganisms, which can be inadvertently transferred from surface to surface or person to person.
Hands are colonised by two types of microorganisms: transient and resident. The first are found on the skin surface, can move around and are readily acquired from contact with other body sites, people and the environment. They are thus easily transferred to others. Resident microorganisms are the normal skin flora found in the deeper skin layers, hair follicles and sweat glands. They are more difficult to remove.
The World Health Organization (WHO)1 highlights that within healthcare environments there are five key moments when the transfer of microorganisms can take place (Fig 1) and Loveday et al.2 also advocate a further moment after removing personal protective equipment. Hand hygiene, which is seen as the single most important factor in reducing and preventing infection, should therefore be a key priority for every health practitioner.1
Register now to continue reading
Thank you for visiting Wound Central and reading some of our peer-reviewed resources for wound care professionals. To read more, please register today. You'll enjoy the following great benefits:
What's included
Access to clinical or professional articles

New content and clinical updates each month